AfMA was established to act as the collective voice of the physicians of Africa. Through advocacy and action it endeavours to achieve the highest possible standards of health for the patients of the continent.
Given the tremendous health burdens of the continent, AfMA employs a rather explicit action-oriented approach, with less focus on meetings and more on projects. It firmly believes in constructively engaging with the World Health Organization (WHO) and other relevant organizations to maximize opportunities to serve the health interests and patients of Africa. It endorses the policies of the global umbrella body for physicians - the World Medical Association (WMA).
The Inaugural General Assembly was held in October 2006 in Pilansberg, South Africa.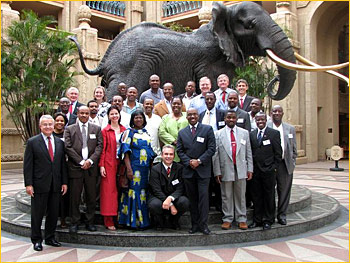 For 2007, AfMA will concentrate to mobilize and help empower their members to develop sound disaster preparedness plans for their nations. The World Health Organization will place strong emphasis on global health security this year, with the World Health Report and World Health Day on this theme. In addition, the International Health Regulations will be implemented during June 2007. AfMA will hold a special Summit on Health Security in Geneva on March 22, 23.